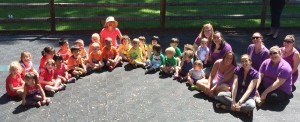 The Country Childrens Center is a 501(c)(3) non-profit, NAEYC accredited day care center, licensed by the New York State Department of Social Services, and accredited by NAEYC in Washington, D.C. The Country Childrens Center, which originated in 1967, provides quality day care Monday through Friday on a year round basis for children of working families in Westchester County and Fairfield County. The Country Childrens Center offers developmentally constructed programs for infants through school-age children. The Board of Directors is the policy making body of the Center consisting of people from the community and business owners, including parents with children in the Center.
The Country Childrens Center receives it's income from parent tuition, the Department of Social Services, and The United Way and the Child and Adult Food Care Program (CACFP). Although the Center is a non-profit organization, tuition fees do not cover operating costs. A continuous effort is necessary to close the gap between income and expenses. Fundraising events are annual activities of the Center, click on the calendar to find out what and where the next event is!
Our Mission
The Country Childrens Center provides a caring, nurturing, and stimulating environment that meets the individual social, emotional, physical, creative, aesthetic, and intellectual needs of each child, ages 6 weeks through middle school. It is our goal to establish a strong self-awareness within each child, which includes a sense of belonging, competence, usefulness, and empowerment. We are attentive to the needs, values and expectations of working parents, and make every effort to make childcare available to those that cannot afford the service.