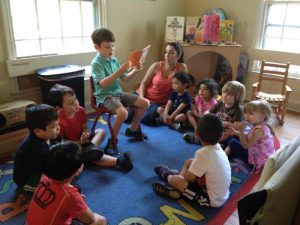 Bedford Central School District (BCSD)
Bedford Hills Elementary & West Patent Elementary at Bedford Hills Elementary School (7:00am to 9:00am & Dismissal to 6:00pm)
Bedford Village Elementary School (7:00am to 9:00am & Dismissal to 6:00pm)
Pound Ridge Elementary at Bedford Village Elementary School (7:00am to 9:00am)
Pound Ridge Elementary School (Dismissal to 6:00pm)
Katonah-Lewisboro School District (KLSD)
Increase Miller Elementary & Meadow Pond Elementary at Lewisboro Elementary School (7:00am to 9:00am & Dismissal to 6:30pm)
Katonah Elementary School at CCC White House – 412 Cross River Road (7:00am to 9:00pm)
Katonah Elementary School (Dismissal to 6:30pm)
Yorktown Central School District (YCSD)
Yorktown Elementary Schools at CCC Kitchawan – 862 Kitchawan Road (Dismissal to 6:30pm)
School-age Program Details:
Available for grades K-5. Our school-age programs are for families who need care before school begins and/or after school ends. Busing may need to be coordinated through the BCSD, KLSD or YSCD depending on which school and program your child attends.
Before School Program Details:
Drop off service for parents who need childcare in the early morning hours before school begins.  Busing is coordinated through the Katonah-Lewisboro school district from our 412 Cross River Rd. site.
After School Program Details:
The program provides:
Developmentally appropriate activities and multi-cultural learning centers that support and nurture school-age children in a safe & secure environment.
Choice-directed activities that promote limit-setting, development of friendships and social interactions.
Opportunities to meet the social, emotional, physical and cognitive needs of the children
Music and Dance instruction
Quiet times and active times, group time and individual time
Homework time
Contact information:
Tiffany Baffi
tbaffi@countrychildrenscenter.org
914-242-0520 ext 309