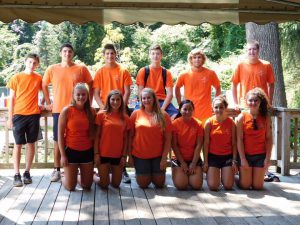 Located at:
CCC "White House"
412 Cross River Road (Rt. 35)
Katonah, NY 10536
914-242-0520 ext 309
CCC Summer Camp Website
The Country Childrens Center Summer Day Camp provides a wide range of daily activities for children kindergarten through 8th grade. Located at the "White House" the camp is designed to give children all the experiences of a great summer day camp while providing a full day of childcare for working parents.
Throughout the 8-week session campers will be challenged with a variety of programs and activities including arts and crafts, sports, games, archery, swimming, multimedia workshops, yoga, field trips and much more! We also offer weekly and full summer enrollment options. In order to provide your child with an age appropriate, socially enriching experience we place our children into seven different groups based on their age and grade.
Swimming is an important part of our summer program. Our Red Cross certified pool is operated by an Aquatics Director . Additionally we have a water safety instructor and 2 life guards.
CCC Campers also have many experiences in the arts throughout the summer. They create a play and a movie as well as put on a talent show and art exhibit as part of their summer program.
Dates and Hours of Operation:
Regular Hours:
8:30-5:30 Monday-Friday
Extended Hours:
7:30-6:30 pm for an additional fee.
Contact information:
Tiffany Baffi – tbaffi@countrychildrenscenter.org – 914-242-0520 ext 302
or visit the CCC Summer Camp Website!