Located at:
466 Cross River Road (Rt. 35) – Katonah
800 Oak Ridge Commons – South Salem
410 Bedford Road – Bedford Hills
823 Pinesbridge Road – Yorktown Heights
862 Kitchawan Road (Rt 134) -Yorktown Heights
Hours of Operation:
7:00am-6:30pm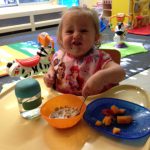 Infant Program
This is a time of partnership and  shared caregiving with parents. The Center provides a nurturing environment of warm, supportive, dependable adult contact where the infant can develop a sense of security and trust.  Care is highly individualized, each infant having a primary caregiver, consistently available to interact, provide mobility, and access and respond immediately to the child's needs.  Through stimulation of all the senses early learning begins to take place.
Toddler Program
Secure in a foundation of trust, the toddler is able now to move towards a degree of independence and autonomy in a safe and caring environment.  Personal self-help skills such as feeding, dressing and toileting are fostered according to individual readiness and in partnership with parents.  The development of social skills is enhanced by the provision of sufficient duplication of toys for comfortable parallel play in a group situation.  Continuous attention is given to language development and stimulation through adult interaction, simple books and pictures, music, puzzles, large motor activity, and multi-sensory experience.  Patient caregivers create opportunities for self-directed play, exploration, imitation and repetition that enable young children to experience a sense of autonomy and success.
Contact Information:
914-242-0520 x 501