Staff
The Center staff consists of an Executive Director, Site Directors, Director of School-Age Programs, Administrative Staff, Nursery School Program Director, Lead Teachers, Assistant Teachers and Aides. Each group operates with a team including a lead teacher or primary care giver, assistants and aide(s). Staff members are certified in First Aid and CPR. Lead teachers must have either a degree and experience in ECE or experience and CDA certification.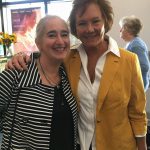 Polly Peace, Executive Director
Polly is a child care professional with more than 35 years experience in early childhood education settings.
From 1987 to the present, Polly has been the Executive Director of The Country Childrens Center (CCC). She is the chief administrator of the CCC, serving over 400 children at 11 different sites in Northern Westchester. Her accomplishments include expanding, enriching and promoting the programs of Northern Westchester's largest day care center, The Country Childrens Center, Inc. into a nationally and internationally recognized model. This childcare model encompasses a broad range of services, including infant and toddler care, pre-school/pre K, before and after-school programs, summer camp, back-up child care services, an inclusion program and an Intergenerational program for school-aged children and local seniors. Polly received the Westchester County Working with Youth Award in 1992. Also, under her leadership the CCC has been a recipient of the Joey Award, from the Child Care Council of Westchester in 1998, 2004 and 2006 for exceptional child care professionals who have made outstanding contributions to the Westchester Early Care and Education community.
In 1997 Polly founded the CCC Summer Camp.The goal of the camp was to provide children of working families all the experiences of a high quality summer camp while meeting the childcare needs of working parents.
Polly loves of children of all ages. This is the passion that drives her to continue to seek new and innovative programs to enrich the lives of children daily while their parents are at work.
Carmelina Myers – Director of Educational Programs
Carm is a New York State certified PreK-6 elementary teacher with a Master's Degree in Elementary Education from Lehigh University. She have been teaching Elementary Education for 16 years in both private and public schools, with several years of experience in the early childhood setting.
Throughout Carm's career as an educator, she has been involved in both curriculum writing and teacher mentoring. Those experiences revealed a desire to partner with teachers in the classroom, to create meaningful and exciting activities for children.
As the Educational Coordinator at the Country Childrens Center, Carm is working with teachers to keep our programs engaging and unique. At the same time, she brings consistency to the curriculum across age groups and locations. Passionate about education, Carm enjoys working the wonderful staff here at the Country Childrens Center.